First, I must extend a thank you to all you lovely ladies who gave me advice on my last post. Friday at the command BBQ his Chief told us all he would have to do on Monday was come in, talk about the weekend, then everyone will be on their merry way. So with all that free time he was going to fix his truck then come up to my neck of the woods and go out to dinner.
WELLLL
turns out T ended up working until 1 then when he went to fix his truck, it was far to complicated.
(Apparently in 2001 Ford decided to make the spark plugs virtually impossible to reach on their F-150's, so he must take it into the dealership).
So no truck means no dinner date. But hopefully the truck will be fixed this week so we can go to dinner and have a good talk about everything.
Now about my Monday. I have had the
WORST
headache today. I woke up
(and by woke up I mean dragged myself out of my bed)
and the second I stood upright I felt like someone smashed my head with a hammer.
AND
I have been feeling this way
ALL DAY.
This menace in my brain
WILL NOT RELENT
. It is so bad at some points it makes me want to vomit. What a rude little bugger. Watching "My First Place" with the most annoying and pretentious woman EVER is not helping, and staring at the computer all day probably will not remedy my headache either so I am hoping sleeping will. I am trying to avoid taking medicine but if I still have a headache tomorrow morning I will be popping some pills.
I hope everyone is having a great week!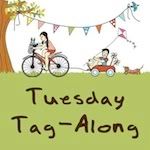 And on a side note
(because I am far to lazy to do a new post)
It's TUESDAY TAG ALONG! I love finding new blogs and I especially love it when people find mine. So if you are from TTA I welcome you to browse my blog and leave some bloggy love!And be sure to leave a linky-doo to your blog so I can check it out!
XOXOXO