As I mentioned in a couple of previous posts, I have found myself getting pretty whiny lately. So while baby Maesie is sleeping I shall participate in
Mrs. Gambizzle
's Thursday 5. What a great way to focus on the positive in my life!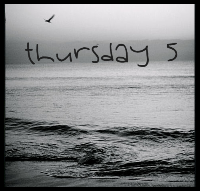 Ecstatic
Gay
Giddy
Happy
1. I was interviewed for the Los Angles Times yesterday! A writer is doing a piece on Cal State schools, the budget crisis and the perils of transferring and my school's PIO gave me her number so I could be interviewed. I am going to be in the paper! The writer, Carla, was so nice during our phone interview and she is coming to take my picture for the paper tomorrow. WHO IS ECSTATIC!!?? ME!
2.
I am pretty excited to start a new project in my parents house. T and I will be taking out one of my parents large, obnoxious and completely unnecessary entertainment centers. It is one of those built in centers made to fit an old chunky T.V, but they mainly use it as storage
(don't worry there will be a post chronicling our DIY adventures)
. So this weekend we are having a "Destruction Date". We're tearing it out and fixing up the wall and putting new flooring in.
3.
I am in LOVE! We have had some rough times. I tend to overreact and he often under-reacts causing some friction but at the end of the day, were hopelessly in love. I loved him before he deployed, I loved him even more while he was gone and I love him even more now than I ever have. Our love for each other grows exponentially every day and after this weekend T and I have truly realized it.
4. My summer classes are finally over! I actually did enjoy my Geography and Child, Family and Community class but I am elated that they are finally over. Now I'm able to relax for two more weeks until Fall Semester starts.
5. After spending tons of time frustrated with my life I realised I was just driving myself crazy! I must say, I have a pretty excellent life. I have a man who loves everything about me. A family who are my best friends and I enjoy every minute with them. I have (future) in-laws who I love and we get along swimmingly. I am fortunate enough to have two amazing jobs, and amazing bosses. And I am thankful I am receiving an top notch education. Those details make me content with my life.